We would like to introduce you to the newest member of the team, our outlandish eyed deer!
Constructed over the course of about a month (with virtually no injuries!), the head and antlers are made of papier mache over a chicken wire structure, which are mounted on a block of varnished MDF. It was then just a case of ordering some suitably outlandish eyewear from amazon and blu-tacing them on. It is now mounted above our office doors, and looks right at home.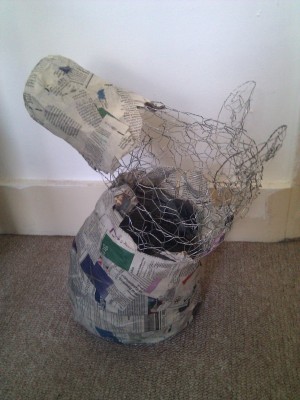 It doesn't currently have an official name, but candidates so far include:
Isaac ('eyes'-ac, geddit?)
John Deere
Deirdre
Terry (no pun here, we just like it)
If you can improve on these, or just want to put your weight behind one, drop us a line via the twitternet @outlandishideas. We're also still not sure it's living up to its moniker, and perhaps it should be a little more outlandish; maybe something involving LEDs, or some more eyes? All suggestions welcome.