In November 2019 we moved into our brand spanking new co-working offices. We were settling in nicely, excitedly gearing up for events, talks and collaborations. We hosted a couple of CoTech meetups, one about how to harness the power of youth in social movements, and another about the role of designers in movement building. Both were a great success, and it felt like a fab start to 2020. Then COVID happened.
For a co-operative workspace that thrives on social interaction, this was a blow. That said, we've been really lucky, particularly because a lot of our members work in tech and were able to work from home, and we've built up a lot of good will over the years so those who could still contributed financially despite us being closed.
The SPACE4 offices when we moved in were good to go, we were really happy to inherit some nice furniture from the tech company who'd been in them before. But they were painted in Google-esque primary colours, which somehow didn't really characterise us.
We enlisted the help of our talented designer friends Thea and Vito to design a colour palette which would create a calm, welcoming modern feel to the space. Sage green, midnight teal and brushed gold gave us a vibrant colourful feel whilst maintaining tones found in nature to bring a bit of outdoor magic indoors. We incorporated the palette with strong black and white triangular shapes, added some natural wood for a true scandi style and of course plenty of oxygen giving plants.
As you'll know if you've ever noticed our clothes, Polly's a big lover of blues and greens. I'm pretty dedicated to black. And leopard print. Polly vetoed the leopard print suggestion. The original SPACE4 had blue triangles on the walls, which formed the basis for our first 'brand', so we wanted to carry this over and evolve the style a bit. I think what we've come up with is something that is really striking, yet not overbearing. Hopefully that's kind of what SPACE4's like as a whole.
With the shift in working practises over the past year we felt strongly about creating the best of the 'work from home' environment together with what many people miss about the office space such as the social aspect, and separation of work and home life. We wanted to give our users a sense of homely familiarity but at the same time the feeling of working away from home. We have of course updated our Health and Safety Assessment to follow government guidelines and provide everyone with a safe coworking space to return to. We've also installed some booths where people can take video calls to create more useful space.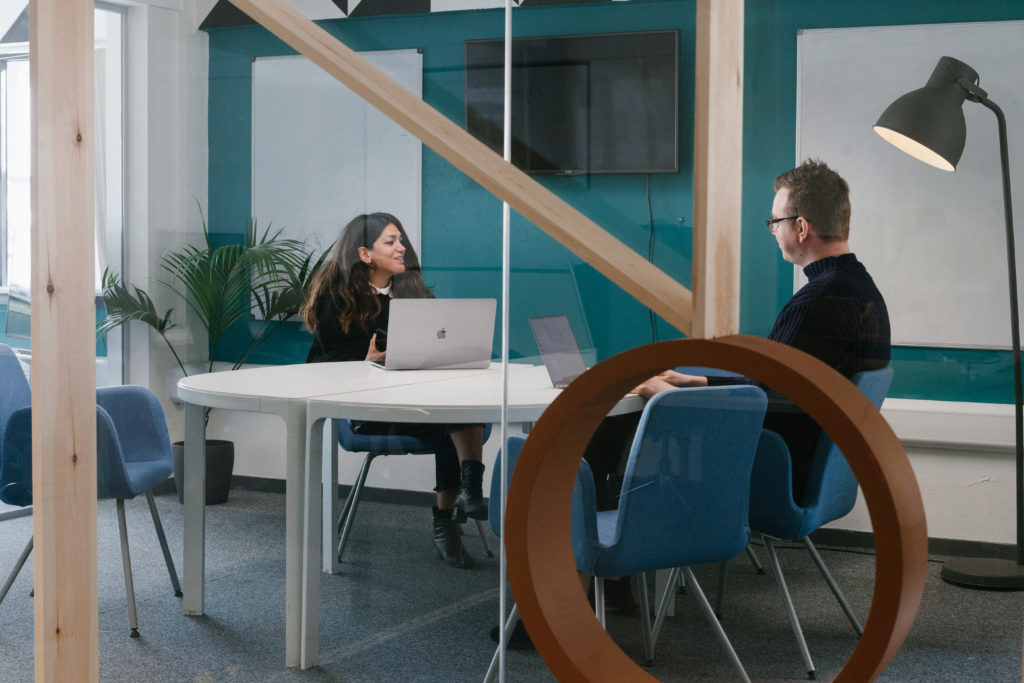 We believe in the power of art
We feel strongly about promoting positivity amongst our users by creating an inviting workspace. We also wanted to find a creative way to communicate our values. To do this we've used artwork around the space which we think sends a strong message, but is really beautiful and carries a positive message. Lots of this artworks has been created by artists and organisations who we've worked with, so using our walls as a gallery is a great way for us to continue to support each other. We're hoping to keep adding to the collection, and swapping art. Let us know if you want to do a takeover of our walls or you'd like to contribute! Here are a few of the contributors:
Autonomous Design Group – a collective of designers opposed to capitalism and authoritarianism offering artistic services. We absolutely love their art work and we stand in solidarity with a lot of the campaigns that they are building and supporting.
Fine Acts – a nonprofit for socially engaged creative solutions, that operates across issues and borders. Have a look at their Reimagining Human Rights art campaign in partnership with hope-based comms, supported by Open Society Foundations. They are building the largest collection of free, evergreen, hopeful visual content around human rights, for activists and nonprofits around the world to use in their campaigns.
Choose Love – A creative organisation that raises money and resources for refugees, and uses their amazingly powerful knowledge of the world of corporate comms to change the debate on migration.
Special thanks to Calverts Coop for printing the artwork for us and also for being a very amazing workers cooperative.
So what's happening next at SPACE4?
We are welcoming our users back to the space and by following government COVID guidelines we feel confident that we can run a safe coworking space. We also think that the pandemic will have a positive impact on SPACE4 as more people are rejecting the traditional model of offices and daily commutes. We are currently running a marketing campaign in which we are focusing on advertising the space to locals in Finsbury Park and Islington – stay local, work local and support local businesses. We have also made sure to incorporate the new design into our comms material, bringing it all together.
All of our events are being held online at the moment until we can safely bring them back into the space, although we also understand that hybrid events are here to stay so it has been important to adapt to those changes and fully equip ourselves with new technology so that we can continue our online events/workshops and reach out to people outside of our network and establish more collaborations across the globe.
We will continue to build on our collaborative work and deliver skill based training and workshops for local residents of Islington and neighbouring communities. We also want to bring more work and connections to the whole coop movement and support local businesses.
To find out more about our current training opportunities and to speak to us about how we can collaborate to meet your needs, get in touch.